Calaways will reign as king and queen of the Whitefish Carnival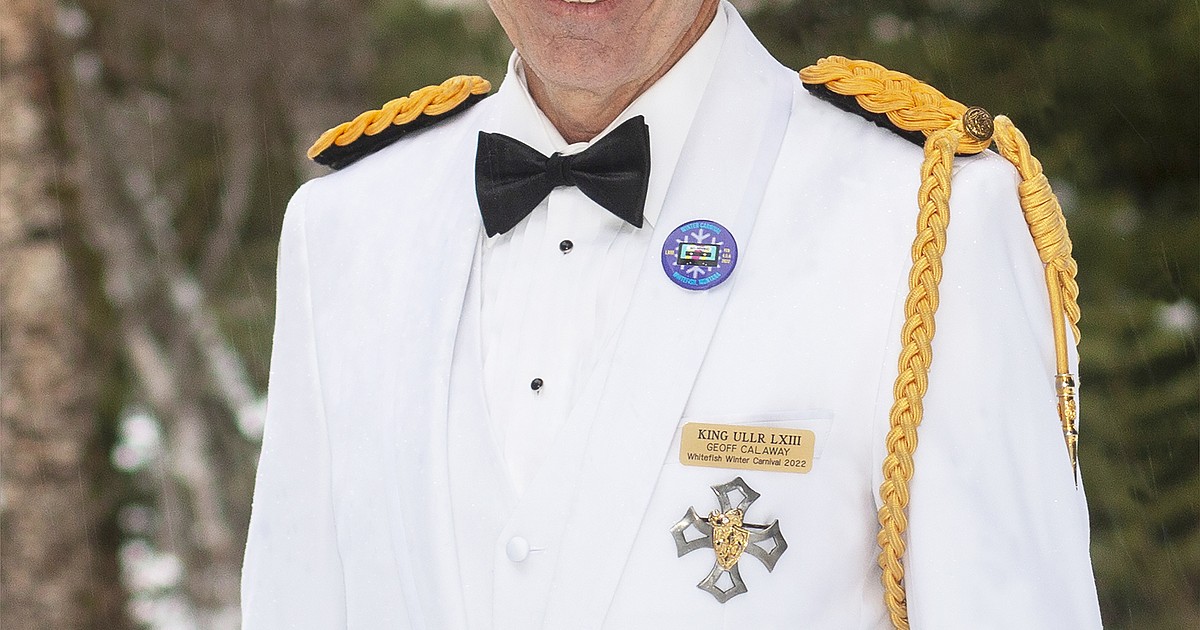 Whitefish residents Geoffrey and Lisa Calaway will reign as King Ullr LXIII and Snow Queen of Whitefish's Winter Carnival. They were crowned at a coronation ceremony Saturday night in downtown Whitefish.
Geoffrey was born in Great Falls, Montana, the last of nine children. His parents founded and operated a potato chips and fries company, Big Stack Chip and Foods, for 24 years.
He spent his winters skiing at King's Hill and his summers at the family cabin on Lake Blaine. The Blaine Lake Roller Skating Rink has always been a summer highlight. His parents retired and moved to Boise, Idaho, where Geoff graduated from high school. He went on to study at Colorado State University and the University of Utah, majoring in skiing, while managing to earn a Bachelor of Science degree in biology and chemistry. He then earned his doctorate in optometry from the University of Houston, College of Optometry.
After an internship in London, England, he entered an incredible practice with the Berkley Eye Clinic in Houston. The clinic has participated in several FDA therapeutic and surgical studies and was one of the first FDA sites for refractive LASIK surgery. He has served on the Texas Optometric Association and the Harris County Boards of Optometry and was Adjunct Professor of Optometry at the University of Houston College of Optometry. He was also a proud member of the Society to Prevent Blindness. He practiced for 21 years, but after numerous back surgeries, he and his wife, Lisa, decided it was time to go home. Whitefish was the perfect place to raise their two boys, Ian and Aidan. In the summer of 2007, they packed up a moving truck and drove to Whitefish, where the summer heat that year hit an all-time high.
Even with a back brace, Geoff found his second calling in volunteer coaching. Football, Little Dribblers basketball, baseball and even Little Guy Football, having read Football for Dummies first. He taught the boys the beauty of Nordic and Alpine skiing leading to a decade of ski racing all over Montana and even Alaska. He was for many years a board member of the following amazing non-profit organizations; the Flathead Valley Ski Education Foundation, which promotes youth ski racing in the valley, Flathead Rapids, as well as the Knights of Columbus in St. Charles Borromeo. He currently sits on the board of directors of the Alpine Theater Project and continues his proud association with the Knights of Columbus and all charitable activities with which they are associated.
Geoff uses his past optometric skills as a member of the Lions Club of Whitefish and did the vision screenings at school with the help of the Lion's Club's generous gift of two high tech, Plus Optik, vision screenings and several trustworthy volunteers!!
He loves all things outdoors and chose to live in Whitefish because of the proximity to the ski resort where he would spend every second of the winter season if he could. In the summer, he enjoys spending time at Whitefish Lake and Glacier Park.
Geoff says he is very excited and honored to be asked to be King Ullr LXIII and looks forward to representing Whitefish.
Lisa was born and raised in Salt Lake City, Utah. She graduated from the University of Utah and moved to Los Angeles where she worked for SkyWest Airlines. While in Los Angeles, she was hired by United Airlines as a flight attendant and was based in London, England for 6½ years. While in London, Lisa met Geoff Calaway and soon moved to Houston, Texas where Geoff practiced optometry. Fifteen years and two amazing boys later, Geoff and Lisa wanted to return to their western roots and chose Whitefish. In Whitefish, they found the village they were looking for to raise their boys. Ian was 5 and Aidan was 3 when they arrived here in June 2007. Happy to leave the big cities behind and embark on getting to know their chosen happy place.
Lisa became a member of the St. Charles Borromeo Choir and taught the kindergarten class there for years until she was asked to join the Whitefish PTA. The PTA has since evolved into the Family Involvement Team (FIT) and joined the Whitefish Education Foundation, where Lisa serves as FIT President. She loves teaching the arts in masters classes at Muldown Elementary and she and her husband have become regulars assisting with Lions club eye tests at all Whitefish schools. She has served on the HOA Board of Directors for Grouse Mountain Owners and currently serves on the ATP Board of Directors. She has worked at the village store for over 10 years and has her own property management business. She loves volunteering at the Whitefish Theater Company box office and helping out with Feat x Feet where her boys loved being part of the tap ensemble. .
Taking full advantage of all that Whitefish has to offer, Lisa loves boating on Whitefish Lake, golfing, Nordic and downhill skiing, hiking in Glacier Park, and scrapbooking. She loves her book club and her Friday morning breakfast club.
Lisa says she is so excited to be a part of the Whitefish Winter Carnival tradition and very humbled to be asked to continue such an incredible tradition.
The Whitefish Winter Carnival continues until February 5. For a full list of events, visit whitefishwintercarnival.com.