Key quotes from Steve Lovell's post-Oxford press conference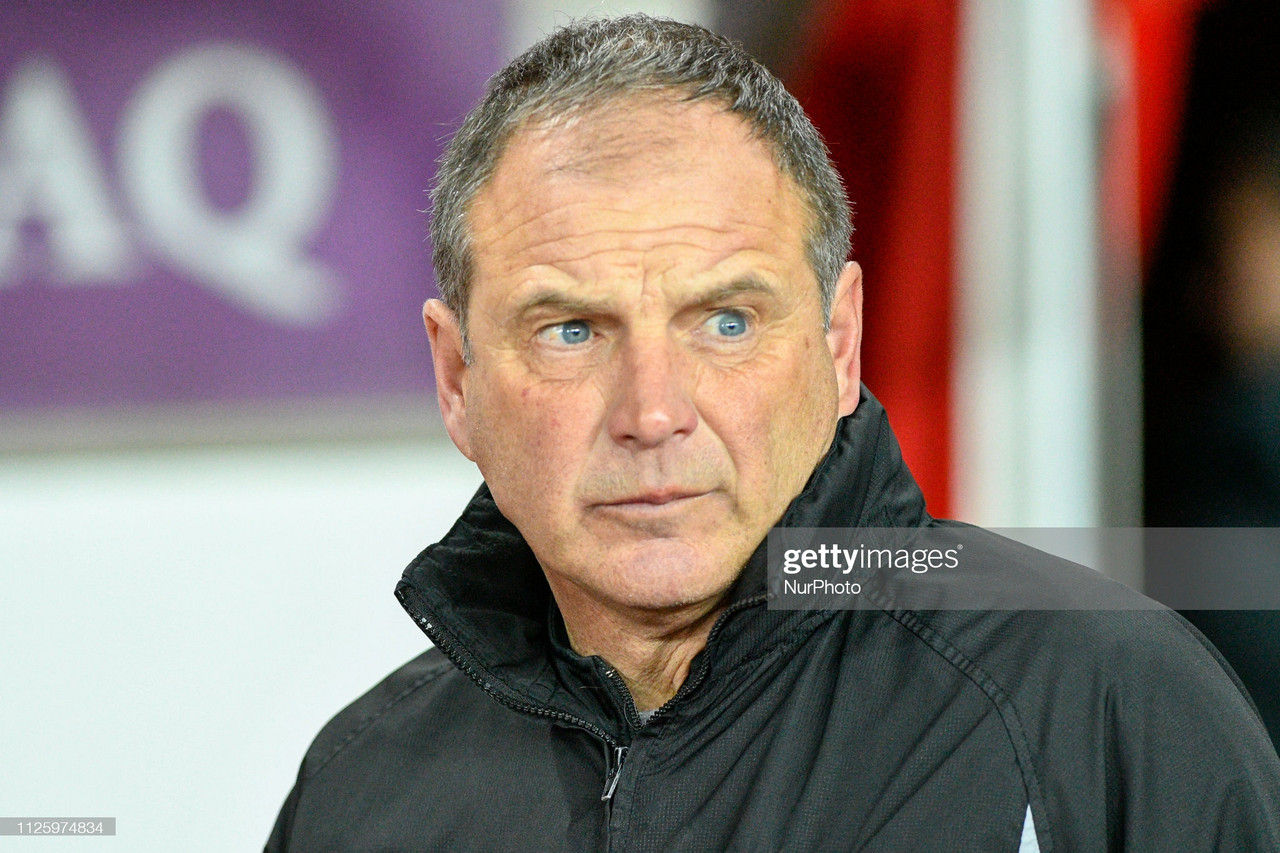 Gillingham manager Steve Lovell had stern words after his team's humiliating 7-2 loss at home to Oxford United the Saturday.
A frustrated Lovell spoke his mind after full time, targeting fans, former management and owner Paul Scally.
Here is a breakdown of his quotes. They are not for the faint-hearted.
Reflection on the game

"The first three goals are ridiculous, the first in particular. You are trailing 3-0 to start the game. In the second half the boys tried but within two minutes it was a penalty.

"The goals we gave up are ridiculous defensively but you have to keep working. We take the positives – Oxford are a good team and if you give them the goals you don't stand a chance.

"They're not terrible players, but they have to work harder. Why does it take 45 minutes to start? Same in Wigan. You cannot give the start to the teams and they have to learn from it. You can work all week, but if it doesn't happen in the field, you don't stand a chance.

"The ref could have given us a few penalties today. In general it was closer, but it's all about the momentum. The game was finished and dusted at 3-0, but thanks to the boys of have tried.
Previous management
"We inherited a terrible situation at this football club. We have to bring them up. Three weeks we've been here – we're not miracle workers. The damage is done."

"The penalties are ridiculous. They are all our fault. I never give up – I will keep working, Crewe is a massive game. Turning the season around is a big ask. It has to be done quickly. »
"The boys have been hammered this season. People don't realize how much. It had a big say in how they are and it bothers me that I come and see that from grown men.

" It's a shame. I don't care what I say, I'll be honest. I'm trying to lift up a group of players who haven't been treated the right way as footballers. They're not in a good place, a bad bubble.
pray for direction

"We're trying to get them to play and there are signs things are happening, but decisions have to be made from a managerial point of view for the good of the players. If it's me, lovely, but if it's not it's not, let's get someone in quickly.

"All I want is a little clarity. If it's me, we're going to bring in players and do what we do and people know I'm going to give it my all. Otherwise fine – but it needs to be done quickly for us to have a chance.

"Someone has to come in soon because the window is closing. If it's me, I'll try to bring in players, but if not, they have to come and help these boys. I haven't had any indication.

"I asked Paul Scally and he told me it was game by game. But now for everyone give us some clarity on what is going to be done because this cannot go on. If you don't know who your manager is, how the hell are you going to behave?"

"Everyone at the club needs a lift, including me. It will come with a managerial announcement for me and for them. I don't know if I will be there on Tuesday, but I think I should know. We have need structure.

"I need guidance. I'm going to talk to the president and I'm going to have to ask him questions because I think it has to be done for the good of everyone, but especially the players. There must be changes by Monday.
Coping with abuse

"It hurts me a lot. I'm being abused by supporters who don't know me and that's not fair. Do I need it? No. But all I want is a chance. Otherwise, let someone else do it. I will not continue to be abused.
"I could leave. I just want some clarification on what's going on. It's something I deserve. I came to try to help. If it's not me, please tell me so I can get on with my life. Tell me as soon as possible.

"For me to be blamed for something I'm trying to reverse is wrong. They don't realize how many hours I put in. Not just me, everybody.
"You can't apologize because we don't lose games 7-2 on purpose. We don't want to. Hopefully we have to get a result on Tuesday and if we do the fans could be happy again.
defend the president
"I understand the supporters' frustrations with the football performances, but not because of the chants. They really don't realize how much Paul Scally works for this football club. It's wrong for them to try – he maintained this club afloat.
"I'm a fan but personally trying Paul Scally is so wrong. If they still want to go after them, go after the players, not Mr. Scally. The club wouldn't exist without him.

To improve

"We have lists and lists of players who are targets. If I'm here on Monday, I'll work hard to try to get them in. But it must be done.

"Conor Masterson will definitely be involved on Tuesday, definitely. John Akinde and Rhys Bennett weren't my kind of players and they weren't going to start and they wanted to play games, so they better leave.

"There might be a few more releases but I'm not aware of any offers. I'm not getting into that, that's what the president wants to do. I will have my say after today and we have always been fair and honest, but clarity is important.
"I just want to help this football club and help everyone out of this mess. Hopefully we have enough games to do this, but it needs to be done soon.
To analyse

Gillingham are on a landslide and their latest defeat marks a new low point in the club's season.
The fans are against the manager, the owner and the players. The team hasn't won in 17 games and is 10 points from safety in 23rd in League 1.
Things have to change. Monday promises to be a busy day in ME7.