Ocean Energy – Eco Wave Power and Queen Mary University of London receive grant from Wohl Clean Growth Alliance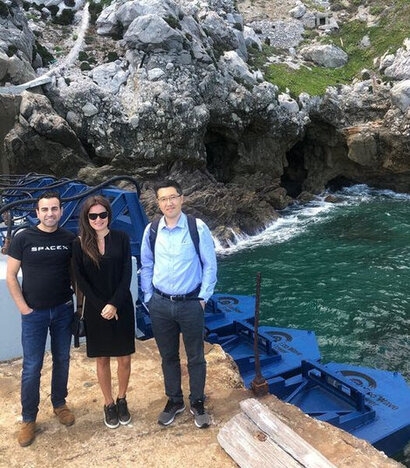 The grant was awarded to the parties with the aim of promoting and facilitating the establishment of a long-term research collaboration between Professor Guang Li and Dr Kamyar Mehran of Queen Mary University of London, and the team Eco Wave Power Engineering. The research collaboration will focus on the development and improvement of the Eco Wave Power wave energy converter control system, to enable faster commercial deployment of EWP technology.
As part of this new collaboration, the parties will mutually visit their operational and research facilities, including visits by Professor Li and Dr Mehran to Eco Wave Power's wave energy converters in Israel and Gibraltar and a visit to the Eco Wave Power team at Queen Mary University. from London. In addition, the grant will be used for the organization of an international conference and dedicated technical workshops with stakeholders from Israel and the UK. The amount of the grant is £ 20,000 (approximately 238,222 SEK).
"This grant from the Wohl Clean Growth Alliance is the second notice of grant approval we have received this month, the first being the € 178,500 grant from the EU under the ILIAD consortium," said Inna Braverman, Founder and CEO of Eco Power of Waves. "We see this as a vote of confidence in Eco Wave Power and our pioneering technology and look forward to a productive collaboration with the team at Queen Mary University in London, who have considerable expertise in control systems. marine energy and power and control systems engineering. "
"We are grateful to the Wohl Clean Growth Alliance for its vote of confidence and are very happy to start the collaboration with Eco Wave Power, which is positioned as one of the leading companies in the wave energy sector", added Professor Guang Li and Dr. Kamyar Mehran. "We believe that our collaboration will bring significant scientific knowledge and progress, which will contribute to the commercialization of the wave energy sector".
Kate Goldberg, CEO of the Wohl Legacy Foundation, congratulated both parties on approving the grant.
"We believe that Eco Wave Power and the University of Queen Mary will serve as an example of productive collaboration between a scientific and commercial entity, while strengthening the relationship between major Israeli and British entities," said Ms. Goldberg.
For more information :
Ecological wave power
Queen Mary University of London (QMUL)