While speaking of rarity and excess, James M. Ntambi has a generous attitude, like a host offering a second helping. Several times in a recent interview, after answering a question, he shared more:
Courtesy of James Ntambi
James Ntambi from Uganda teaches nutritional biochemistry
and global health at the University of Wisconsin-Madison.
"One little thing I didn't tell you before…"
Ntambi grew up and attended college in Uganda, then moved from Kampala to Baltimore after winning a Fulbright scholarship to pursue graduate studies at Johns Hopkins University, where he is now an adjunct professor. He was studying a parasite threatening horses and cattle for his doctorate. and is already developing a connection with the American Society for Biochemistry and Molecular Biology. (He now sits on the Board of the ASBMB.)
"My first two major publications as a graduate student were actually in the Journal of Biological Chemistry," he said.
Her plan was to return to Uganda after graduating.
"The chairman of the biological chemistry department approached me (and said): 'I heard you were going back to Africa,'" Ntambi said. The president made an offer: How about a postdoctoral fellowship?
Offers to do so have been repeated throughout Ntambi's 35-year college career, but they have not stopped him from returning to Uganda.
In fact, he made a point of it.
In community clinics, something clicked
As a professor at the University of Wisconsin-Madison for the past three decades, Ntambi has taught nutritional biochemistry and global health. Visiting villages in rural Africa as part of the Ugandan program he started, UW faculty and students "saw things they never expected," he said. declared. "Malaria, of course", in low-income settings, but also diabetes and hypertension.
His students were there to learn how nutrition-related conditions are diagnosed. For a severe protein deficiency called kwashiorkor, "What are these kids like?
But those visits reflected a shift that has been amplified around the world since Ntambi moved to the United States.
This is called the "double burden" of malnutrition, recently reported in the Lancet Global Health. Even in remote areas, malnutrition in many forms is now seen alongside diet-related non-communicable diseases (such as diabetes and hypertension) within households or communities. Some people even suffer from both types of disease in their lifetime.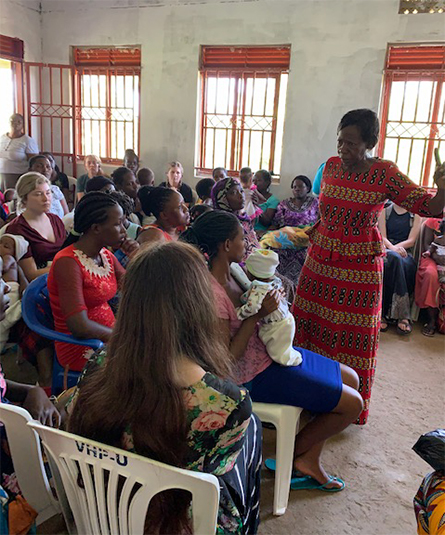 Courtesy of James Ntambi
University of Wisconsin-Madison study abroad Ugandan students and young mothers
participate in a pediatric nutrition clinic in the summer of 2019 in Lweza-Mukono
Center for Community Health Initiatives.
"We see undernutrition and overnutrition," Ntambi said.
As in the United States, the trends point to systemic change. Social drivers and availability are factors. Globalization, highly processed foods, and work lifestyles are all contributing to what the World Health Organization calls a "nutrition transition." Additionally, older people are more likely to have non-communicable diseases, and economic prosperity often signals a shift from infectious to non-communicable diseases.
Fighting the double burden
Ntambi wanted to use his training in biochemistry in community settings, not just in an amphitheater or a laboratory. "You start working through those issues, when you come back here, more effectively," he said.
After leading community clinics, he began to apply his training in biochemistry in the field.
"The idea was to track those diseases that could be prevented," he said – for example, advising someone with high blood sugar about dietary changes before they became "completely diabetic."
Ntambi's efforts in East Africa, particularly a nongovernmental organization he helped establish, amount to global responses to the double burden. According to the WHO, nutrition education is part of a series of approaches that deliver a double payoff, reducing wasting, stunting and micronutrient deficiencies, as well as type 2 diabetes, cardiovascular disease and cancer.
Community education was Ntambi's vision, and she made excellent use of her expertise; during his career, the scientist published more than 200 scientific articles on biochemistry and nutrition.
What about that postdoctoral fellowship he took all those years ago? It was, in fact, in lipid metabolism.
Apply a scientific research track
Ntambi's favorite gene is SCD1. It helps the body process dietary carbohydrates, gathering that energy into monounsaturated fatty acids for storage. How? The SCD1 gene is instructed to make a protein called stearoyl-CoA desaturase. This protein (an enzyme) converts the fatty acids palmitate and stearate to the most common fatty acids in triglycerides (palmitoleate and oleate, respectively). Ntambi and a team of researchers found that when you have a lot of leptin, a hormone that makes you feel full, your body produces less SCD1. As a result, the body makes less fat and tends to lose weight.
Ntambi found that genetically modified mice unable to make the SCD1 protein did not produce much fat even when fed a high carbohydrate diet. An article about it was cited more than 1,000 times, and Ntambi then moved on to how different tissues are involved: skin, liver, fat, muscle, gut, heart, and brain.
"This is a very good example of a diet-gene interaction," Ntambi wrote.
Fight the brain drain
Ntambi is aware not only of the double nutritional burden but also of the brain drain in Africa. He sees too few resources for basic research at home, and he is working to change that.
A decade ago, inspired by initiatives in economics and public health, Ntambi and others (including Richard Deckelbaum, a pediatric gastroenterologist at Columbia University) laid the foundation for research excellence in biochemistry and nutrition in East Africa through a PhD initiative. students.
It is called the African Nutritional Science Research Consortium. There is good news and bad news. Not lacking in ideas, this enterprise is reminiscent of the double burden: abundance and scarcity. "Funding… COVID… Everything is in place," Ntambi said.
"The basic principle remains: Strengthen local capacities. Produce graduates locally. Avoid the brain drain.