Why should you use drones for your engineering projects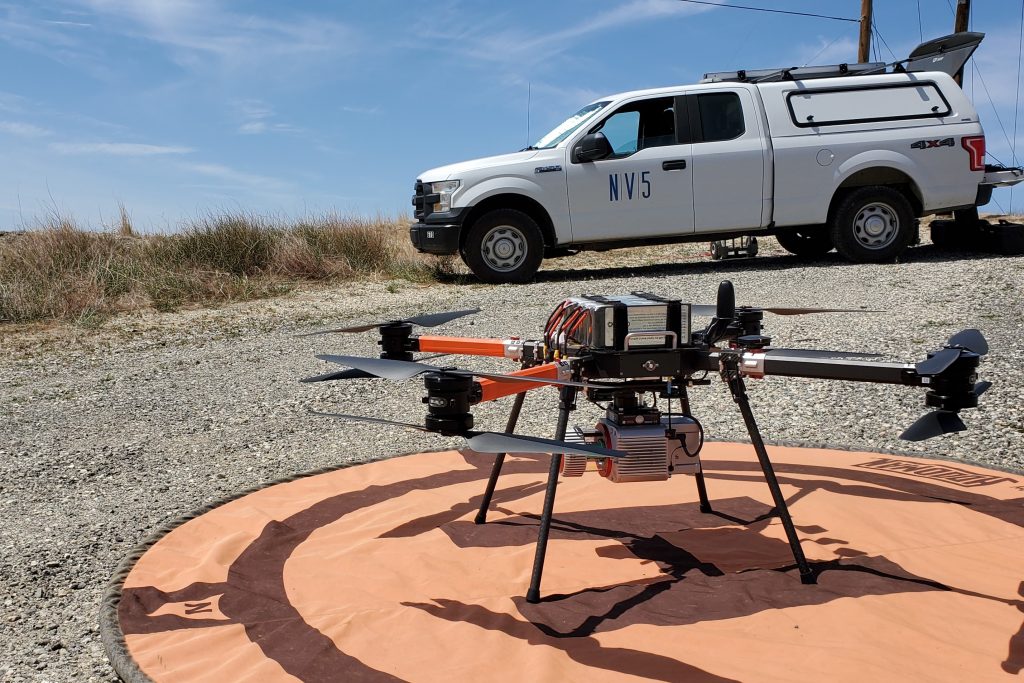 Once just an expensive toy for tech enthusiasts, drones are now being adopted across a variety of industries to deliver tangible business benefits. For engineers, these unmanned aerial systems (UAS) are becoming tools that enable greater precision in data collection, reduce project costs and improve efficiency.
We have seen significant growth and innovation in the commercial drone industry over the past decade. In response to the growing demand for data, my team at NV5 Geospatial has tripled in size over the past three years. Sensor manufacturers are in turn creating compact lidar scanners, acoustic sensors, as well as thermal, multispectral and hyperspectral cameras, for UAS applications.
Beyond the more obvious application of standard RGB imagery for high resolution aerial photography, multispectral and hyperspectral cameras allow users to see beyond the visible spectrum. For example, UAS multispectral imagery is often used to determine the health of vegetation and crops. Thermal Infrared (TIR) ​​imaging is a useful tool for detecting structural issues in infrastructure assets such as debonding or delamination in bridge deck concrete (pictured below). TIR is also commonly used to identify damage, inefficiencies, leaks, or hot spots in buildings, solar fields, electric utilities, and pipelines. Integrating lidar into our deliverables allows us to create high-accuracy 3D models in all conditions, including areas with heavy vegetation.
The lidar industry for UAS has also taken off recently. There are a number of different scanners to choose from, which vary greatly in price and performance. Lower cost scanners have led to a democratization of UAS lidar, but may not be suitable for all applications. Project requirements should be taken into consideration when choosing the optimal sensor for your needs. The benefits are impressive. Here are some real-world examples of how engineering customers have leveraged UAS technology to improve accuracy, time, cost, and safety.
In one project, our team collected UAS imagery and lidar for approximately 100 acres of densely populated urban roadways in Imperial Beach, California, to support the city's "targeted city drainage master plan update." city. Without the low altitude and slower flight speed of the UAS platform, the level of detail required would not have been achievable. The aerial survey resulted in minimal disruption to residents and eliminated the need for field crews working in the streets for several days. The UAS platform also allowed us to fly over private properties that were difficult for field crews to access to collect data. The topographic map was derived from lidar data and included 3D breaklines at curbs, retaining walls, and other relevant slope breaks. The planimetric background map was derived from the ortho-rectified image and supplemented with lidar when necessary. The addition of lidar allowed us to detect features and perform ground modeling under the vegetation. The result: a complete map that required no further return to the region.
One of the lesser-known uses of UAS technologies is in the field of historic preservation. With the low acquisition cost, high level of detail, and fast mobilization time, our team was able to use UAS and terrestrial lidar to create a 3D model of a historic 14-story building on Collins Avenue in Miami. Beach, Florida. Originally built in the 1930s this building had been completely gutted but the developer wanted to retain some of the original exterior by incorporating it into the design construction of a 5 star hotel. By combining the two technologies, we were able to create a complete and seamless model of the entire exterior of the building, as well as the interior of the dome.
Creating detailed maps, drawings and models is necessary for any UAS vendor with engineering customers, but this limits the user base. Even with the appropriate software, most users are limited to viewing final deliverables and lack the ability to interact with full datasets in their native forms. Converting all of these datasets into web-viewable formats and creating user-friendly sites can add immense value to engineering projects. Engineers, project managers and contractors can all collaborate on detailed UAS datasets hosted online. We used this approach when creating a custom web portal for our engineering group. The portal allows users to take measurements on point clouds and lidar images, switch between different dates to track progress, and browse Street View-style 360-degree panoramic images from anywhere. what device.
It's important to note that just because a data set looks very detailed doesn't mean it's necessarily accurate. Not all UAS sensors are the same. Working with experienced geospatial professionals is always essential to ensure high quality, survey-grade deliverables. Engineers should ensure UAS vendors work with professional surveyors and follow guidelines from governing bodies, such as the American Society for Photogrammetry and Remote Sensing (ASPRS), when reporting accuracy.
If you are looking for an innovative way to collect rich data sets for engineering projects that require a high level of detail in a cost effective and timely manner, UAS platforms are an ideal choice. But it's important to understand this ever-changing technology and the most appropriate sensor types for each application. The right combination of remote sensing technologies on a UAS platform provides a great way to create accurate and detailed survey-grade products that can provide a competitive advantage to a new generation of engineers.
*lucas fraser is program manager for unmanned systems at NV5 Geospatial
Do you like what you read? To receive daily and weekly New Civil Engineer newsletters, click here.